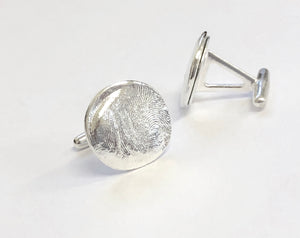 Solitude & Soul's personalized fingerprint keepsakes are each individually hand crafted with so so so much love.  Using the fingerprints of your loved one(s) and the highest quality of pure silver these timeless keepsakes are a comfort to have.
Please advise in your order the number of individual people you wish to print for your order to ensure the correct number of fingerprint kits is sent.
(example: I would like to print my two children.) Therefore; we would send out 2 kits and you would enter in your order one pair of cuff links.
They are individually touched leaving you with a piece of someone to hold on to forever. If you need a help with purchasing your Lasting Impressions fingerprint kit or an appointment, please contact us at info@solitudeandsoul.com or 306-539-5855.
 Once your order is recieved your fingerprint kits will be shipped out to you.  We will also email a video walking you through the process of using our fingerprint kit.  Do not stress for one single second....it is very very very simple. :)